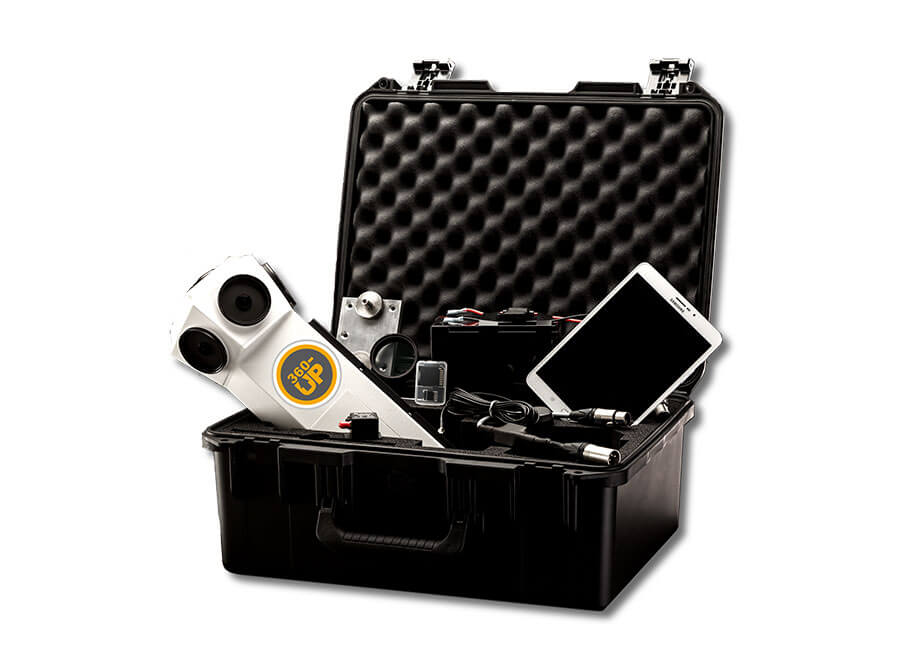 Professional set consisting of a 360°-camera with software packages and remote control. Options like vehicle mounts, backpacks and more. Create Street View yourself on Google services or without Google.
What makes the Street View hardware + software set from 360-up particular?
Professional all in one bundle entirely engineered in Germany
For the recording, data management and publishing of 360° Street View data
With the new cloud based software you can publish directly to the Google Services or publish interactive Street View tours without Google
Outstanding solution for service providers, tourism, administrations, civil protection, transport services, land registry, military and industry
Rheinuferpromenade | Düsseldorf
Virtual tour with CMS, Street View Made in Germany, Tourism
Rheinuferpromenade | Düsseldorf
Google Street View Tours, Street View Made in Germany, Event locations, Tourism
Specifications Hardware
360°-Camera
360-up Street View Camera
Number of sensors
6
Sensor resolution
5 MP
Sensor size
2560 x 1920 pixel
Image format
JPG
Max frame rate
7 fps
Field of view
360° x 160°
Release modes
distance, interval, manually, external trigger
Street View log
image number, latitude, longitude, altitude, heading, GPS date + time
pitch, roll, direction, speed
number of satellites, GNSS Fix, HDOP, VDOP, etc.
Track log
Extra track recorded at 20 Hz
Binary log
All data packages the positioning device provides
Data capacity
Unlimited due to swappable SSDs
SSD capacity
120 GB, 250 GB, 500GB, 750 GB, 1 TB
Recording capacity
With the distance release mode set to 5 meters:
120 GB SSD lasts for 120 km
1 TB SSD lasts for 1000 km
Each data-set is about 4 MB
120 GB SSD lasts for 30,000 Street View images
1 TB SSD lasts for 250,000 Street View images
Power supply
mobileUPS for the cars cigarette lighter socket / batteries
Remote control
WiFi by Android controller app on the provided tablet
Exposure, white balance, gain
automatic
Dimensions + weight of the camera
height 400 mm, diametre 180 mm, weight 1,8 kg
Sensors
6 Aptina MT9P031, 5MP each
Lenses
6 fisheye lenses, f 2.4, fixed focus
Lens protection
6 screw-on UV filters
Easy to clean and replace
Heat dissipation
2 large heat-sinks and an internal fan
Mounts
Mounts for car, backpack, boat and locomotive are available
Positioning System
Positioning System
GNSS with Dead Reckoning
Optional RTK
Optional wheel sensor via the cars OBD2 socket
Module
Spatial by Advanced Navigation
Receiver
u-blox M8
Supported navigation systems
GPS, GLONASS, BeiDou
Accuracy improvement
Optional RTK
Positioning robustness
Optional OBD2 wheel sensor
GNSS accuracy
horizontal position accuracy 2,0 m
vertical position accuracy 3,0 m
RTK accuracy
driving about 30 cm
Maximum recording speed
Recording with distance mode set to 5 meters: 110 km/h
RTK correction signal
RTCM 3.1 von NTRIP with the remote control tablet via LTE and Bluetooth.
Specifications Software
Street View Data Processing Software
| | |
| --- | --- |
| 360-up Street View Data Processing Software | |
| Stitching software | |
| Processing capacity | 250,000 street views / day, with Windows 10 PC + NVIDIA RTX 2060 Super-Grafikkarte |
| Operating system | Windows 10, 64-bit |
| Street View format | equirectangular |
| Street View size | 8192 x 4096 pixel |
| Street View FOV | 360° x 160° |
| Street View format | JPG |
| Levelling modes | auto, static, none |
| Meta-data | Copyright, local recording date + time, latitude, longitude, altitude, direction, GPS date, GPS time |
Processing options with the software
project management
tour management
map for visualisation + manipulation of the recordings
duplicate remover
watermarks
leveling and change of brightness
shadow brightening
timelines
player configuration + preview
cloud publishing
cloud player authorization
cloud player statistics
creation of datasets for web player, android player, instant player, Google publisher, only street views
split screen mode: map + street view images
tool for separating thin recordings
creation tool for street names from open source maps
tool for the setting of the direction from the position
tool for the setup of backward mounted camera
source copy tool
presets
manual
release data
built-in access to help desk
Optional Software-Suite
Software-Sets
360-up Street View Software-Suite
360-up Street View Data Processing Software
Street View Creator + Player Configurator
Google-Publisher
Upload to Google Street View + Google Maps
Privacy Controller
automatically detects and blurs faces and license plates to comply with laws, rules and regulations
Instant-Player
allows street views to be displayed immediately on Windows 10 computers without prior processing
Photogram
enables the geo-referencing of any object that is visible in a street view image recorded by car
Controller
Remote control to operate the camera with the android tablet.
recording project management
Facades
matches street views to data from your GIS system
extract photos to visualize points of point layers
Tile Downloader
download map-tiles for offline-use
for the remote controller + the android player