A virtual tour that is directly linked to your MyBusiness profile. Users can jump from the Google search result straight into your premises and get an idea. Step up in line in this modern "Yellow Pages" ranking and convince potential visitors.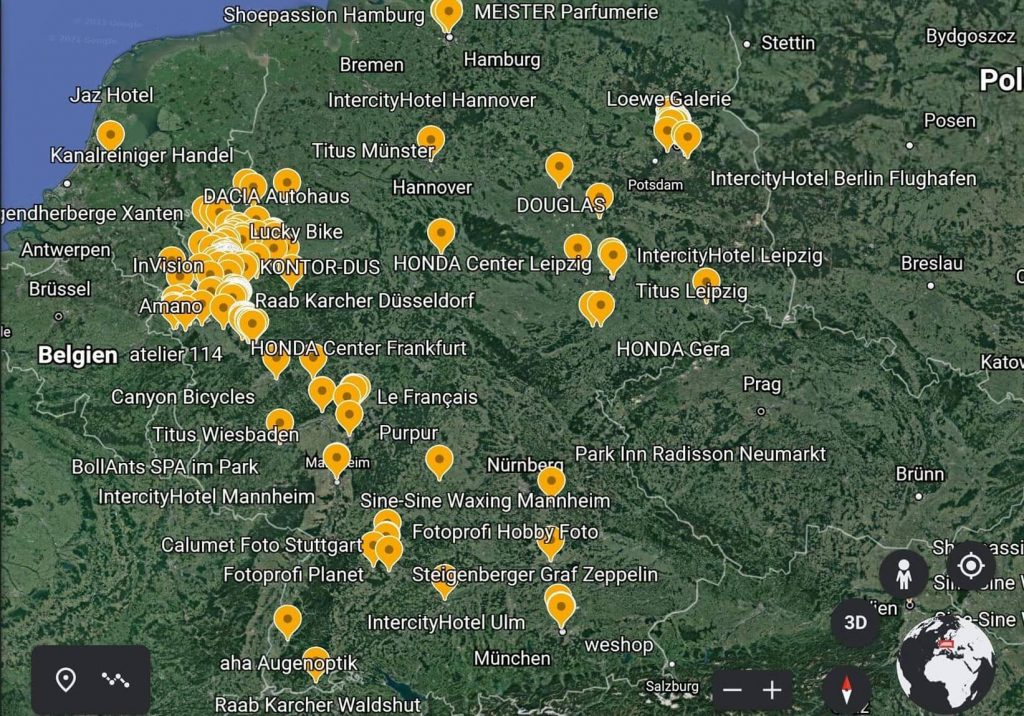 Optimise your Google MyBusiness listing. This is more important than ever, as, fewer than half of all searches lead customers to a company website.
Google street view tours consist of 360°-panoramas which are linked together by hotspots and become an interactive tour. The tour is directly integrated into your Google MyBusiness profile. An independent  Ipsos survey showed that 44% of searches on a specific company, use mapping products. And on average, 41% of these searches result in an on-site visit. Business listings with photos and a virtual tour are twice as likely to attract user interest. The  Oxera-Study  gives a better insight into conversion rate results. A  Case Study Retail on Google tours was published back in 2014. You can also download a Case Study Catering  and a Case Study Production.
What makes 360-up's Google Street View Trusted Virtual Tours so special?
Our company's founder, Marcus Mitter, is one of the first panoramic photographers to be contacted by Google and he's been active since the beginning
He's already been awarded two Google Business View Awards
Marcus has published more than 13,000 panoramic images of roundabout 450 premisses, partly booked by Google
These Google tours have been seen nearly 120 million times since then
So, our company's Google tours are your company's guarantee of the significantly improved visibility it deserves across all Google's services
All you have to do is let the photographer access your premises
A few days after that, your virtual tour will be integrated into your My Business profile, the search engine, Maps and Google Earth
It's obviously better to provide users with interesting business content because those companies are more prominently displayed on Google
Today, more than half of the searches on Google no longer lead to websites, as the relevant content is directly displayed in the search result
The outstanding quality means it's possible to use images from the Google tour for 360°-slideshow-videos
Google's images can also be used offline with professional virtual reality glasses in 4K resolution
The panoramas can also be used on touch screens and thus serve interactively in up to 8K resolution
Examples of virtual Google tours by industry
Bang + Olufsen | Düsseldorf
Google Street View Tours, Retail trade
Bundeszentrale für Politische Bildung | Berlin
Google Street View Tours, Service providers
Dr. Ala Wiener | Frankfurt
Google Street View Tours, Doctor's offices
Institut für Stadtgeschichte | Recklinghausen
Google Street View Tours, Museums
Street View Made in Germany, Google Street View Tours, Tourism
Google Street View Tours, Vehicle dealerships
Städtische Kliniken | Mönchengladbach
Google Street View Tours, Hospitals
The Wellem by Hyatt | Düsseldorf
Google Street View Tours, Hotels
Google Street View Tours, Exhibits, Service providers, Event locations
Vogelsang Elektromotoren | Bochum
Google Street View Tours, Service providers, Industry
Zum Schlüssel | Düsseldorf
Google Street View Tours, Restaurants